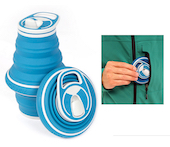 Hydaway Collapsible Bottle
The ultimate travel and hiking companion, HYDAWAY collapses small enough to fit in a pocket. When expanded, the 21 oz HYDAWAY will quench your thirst during airport layovers, or the final pitch to the summit. Expand the bottle full size to quench the biggest thirst. When you're finished, collapse it flat (just over an inch thick to be exact) and stash it in your pocket, pack, purse, almost anywhere! Features include: watertight, collapsible, easy to Use, BPA-Free, Taste and Odor-Free and dishwasher Safe. Bottle fits in most vehicle cup holders and backpack water bottle pockets. All HYDAWAY bottles feature an easy to use, flip-up straw for quick sips, carabiner friendly carry handle, protected by a Watertight Guarantee.
HYCBOT $19.95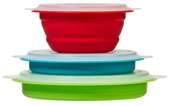 Set of 3 Collapsible Storage Bowls
This versatile Collapsible Storage Bowl Set is perfect for food prep, storage and reheating leftovers. Three convenient storage bowl sizes are great for packing in a lunch box, on a hike or camping. Pack along snacks in these 1 1/2 cup, 3 cup and 5 cup collapsible bowls with snap-on see through lids. Use collapsible storage bowl set to pack leftovers for lunch and reheat in the microwave. When done using, the storage bowls collapse down to their original height for convenient storage in a drawer or cupboard. Microwave and freezer safe. Bowls can be safely cleaned in a dishwasher in either the open or collapsed position.
CSTORB3 $13.95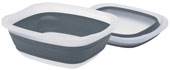 Collapsible Dish Tub
The Collapsible Dish Tub is a versatile tool for all your household tasks. Use our collapsible tub at home for washing dishes, cleaning floors and more. Take it camping to use as a dish tub or to hold all those delicious ingredients for s'mores. Best of all, the tub collapses to ? its original height for compact storage. Large 10 qt (9.46 long) capacity. Raised feet allow water to flow underneath. Rigid design allows tub to stand on its own yet still folds easily for storage. Diswasher safe.
CDPAN $15.95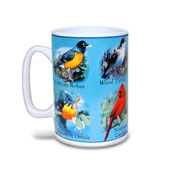 North American Song Bird Mug
Let the calls of nature serenade you each time your raise your cup. Our new mug plays one of twelve notable North American Song Birds each time you lift your cup. Makes a great gift for an avid bird lover or "just because" gift for mom. Ceramic mug holds 12 ounces and includes a Sound module that can be removes for easy cleanup. Bird mug requires 3 AG10 button cell batteries included.
TMUG01B $13.95